Acupuncture Treatment in Sarasota
At SRQ Acupuncture and Massage, we treat our patients with a holistic approach, viewing the human body, mind, and spirit as a whole in their natural and social environment. We tailor our treatments to each patient and ailment to maintain the harmony between health and environment. Dr. Hynes' intention is to facilitate harmony within the body, ridding it of physical and/or emotional restriction, providing the capacity for transformation to take place in the body and promoting the free flow of Qi. Dr. Hynes is a Licensed, Board Certified Acupuncture Physician. She received her Masters Degree at the East West College of Natural Medicine. She studied Classical Chinese Medicine. She is trained in traditional Chinese acupuncture, Japanese acupuncture, Chinese herbal medicine, Auricular therapy (ear acupuncture), scalp acupuncture, cupping therapy, facial rejuvenation acupuncture, and Acu Point Injection Therapies. She is continuously adding to her wealth of knowledge treating patients with acupuncture in Sarasota.
---
---
---
---
---
---
Can Acupuncture Treat This?
According to the World Health Organization, the National Institutes for Health, and clinical experience Acupuncture is useful in the treatments of many conditions. These conditions range from emotional to physical.
---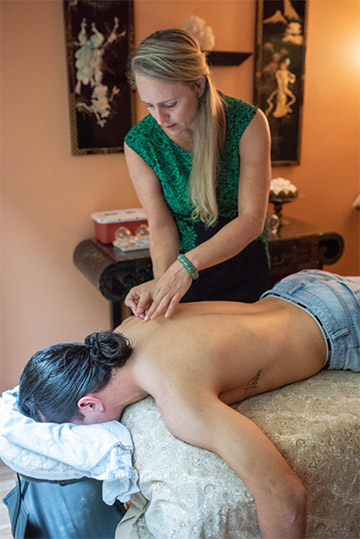 So What Can Acupuncture treat?
• Addictions
• Cystitis
• Menstrual Cramps
• Infertility | Menopausal Symptoms
• Recurrent Infections
• Addictions To Nicotine
• Depression
• Injuries | Headaches | Neck & Back Pain
• Sinusitis| Sore Throat | Laryngitis
• Alcohol | Drugs
• Tendonitis | Sciatica
• Anxiety | Insomnia
• Digestive Disorders|Diarrhea
• Gastritis | Heartburn
• Irritable Bowl | Colitis | Constipation
• Tinnitus | Meniere's Disease
• Asthma | Allergies | Bronchitis
• Eye and Ear Disorders
• Movement Disorders
• Irregular or Heavy Periods
• Neurological Disorders
• Urinary and Reproductive Disorders
• Colds and Flus
• Immune Function
• Post-stroke recover | Bell's Palsy & Trigeminal Neuralgia
• Upper Respiratory Disorders
• Chronic and Acute Pain
• Food Allergies | Ulcers